The overhead connector is an essential piece of equipment in the electrical distribution network. It is the essential element for the derivation of an electrical line forthe connection of a subscriber to the low voltage distribution network. Originally developed to be installed on bare lines, this equipment has evolved to adapt to new insulated lines.
Overhead connector: the essential equipment for the derivation of a power line
Overhead connector analysis
The connector consists of two bodies (upper and lower) made of glass fiber reinforced synthetic materials, separated by a jaw containing contact blades. These blades ensure the electrical connection between the core of the main conductor and that of the branch conductor.
The screws are made of zinc alloy or stainless steel.
There are hexagonal heads that break when tightened.
There is also a flexible cap that guarantees the watertightness on the connection side. The watertightness on the network part is preserved thanks to overmoulded elastomer.
MICHAUD overhead connectors comply with NFC 33-020 (1998&2013) et EN 50483-4.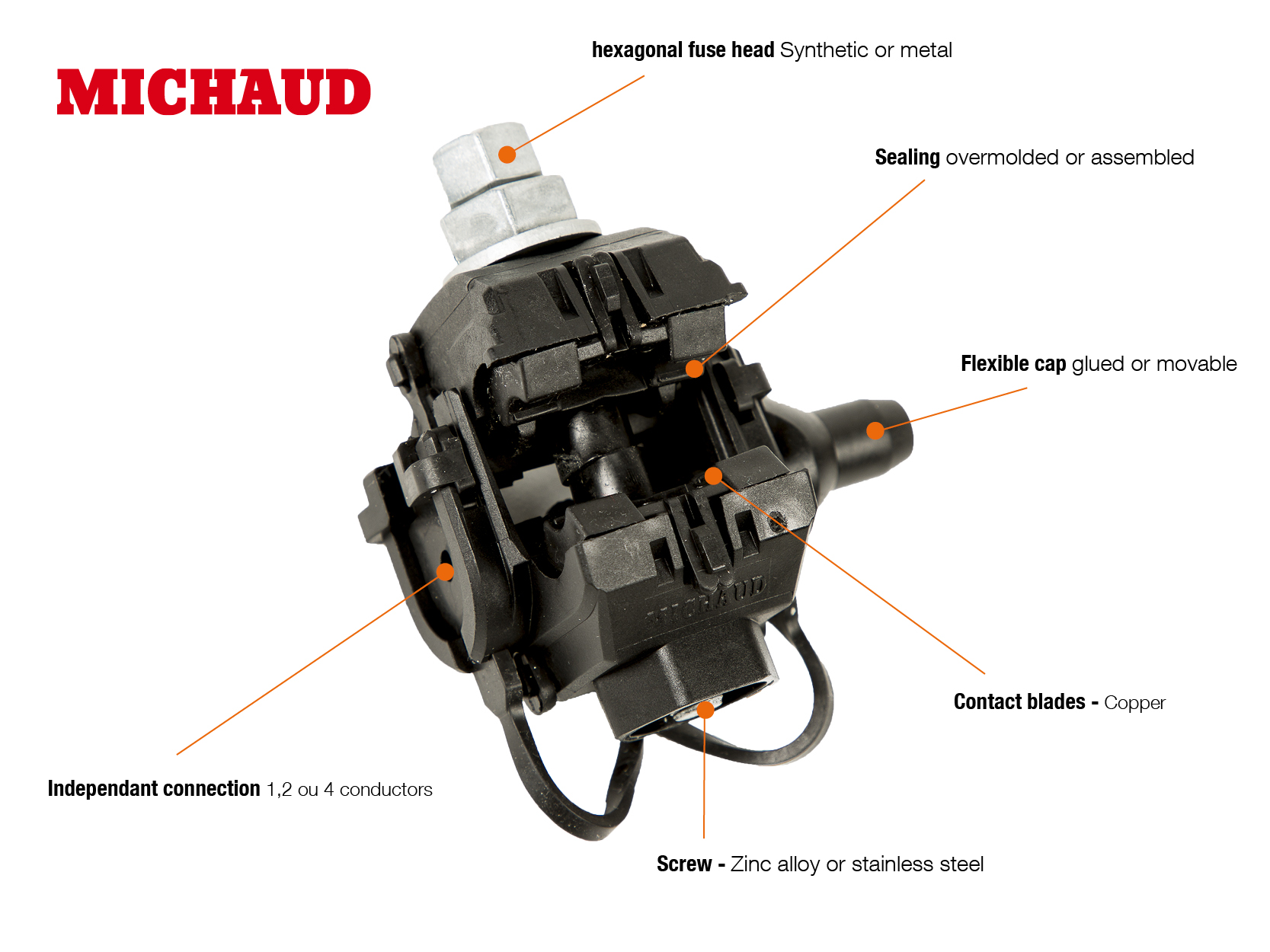 How to bypass a low voltage power line with an overhead connector?

After inserting the tap conductor into the bottom of the flexible cap, the connector must be positioned on the network twist. Pre-tighten by hand and then use a hexagonal key to tighten until the fuse head breaks.
Once the connector is installed, the electricity flowing in the network will follow the path created by the branch and will supply the connection (or the secondary network). The current flowing through the secondary network is defined by the cross-sectional area of the branch conductor.
The risks of using a low-quality equipment
During the installation of a low voltage network, the cost of connection represents about 2% of the expenses. Nevertheless, low quality connections are responsible for 80% of the incidents on the lines. These equipments represent a low cost at installation but can generate many expenses during their life.
The main risk is burning as a result of a bad connection orwater infiltration at the connection due to the lack of watertightness of the equipment. These incidents can occur because of poor installation because of lack of training of technicians, or failure of overhead connectors.
These risks can lead to a completely faulty installation and can compromise the safety of people as well as the life of all equipment installed on the power line.
Thanks to tests carried out in real conditions and to its solid experience in the field, Michaud develops high quality overhead connectors with a life expectancy of more than 40 years when installed according to the rules of the art and the regulations in force. This reliability and quality of the connectors is also reflected in the design of products adapted to all the world standards: IEC, EN, DIN, AISI, AS, NZ… which have been designed in relation to local constraints.