Electriciens sans frontières has been requested by Faag-Taaba, the association in charge of the center for orphans and disadvantaged children in Sabou. The children attend the Tanghin-Wobdo school located right next to the center.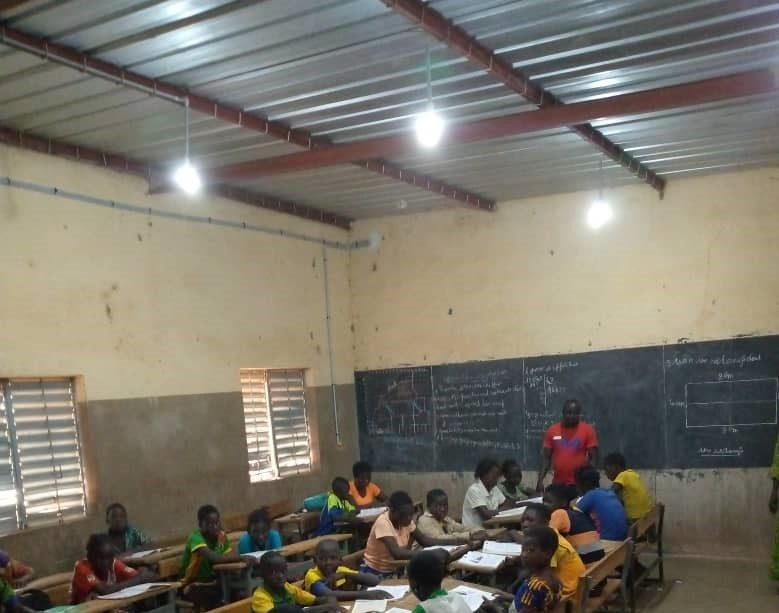 Lighting of the classroom at Tanghin-Wobdo – photo by Electriciens sans Frontières
Access to electricity and water provide salutary living and learning conditions for Tanghin-Wobdo students.
The school's borehole being unusable, the students have to come and get water from the water point at the center. The president of the center and the director of the school, wishing to allow the children to work in better conditions, have pooled their expectations and considered together solutions to match them.
The project consisted of rehabilitating the existing borehole in the school by installing a new pump and electrifying the classrooms, as well as the principal's office and the teachers' quarters.
300 solar lamps have also been provided to the students in order to secure their moves and to light them up in the evening, especially for reading.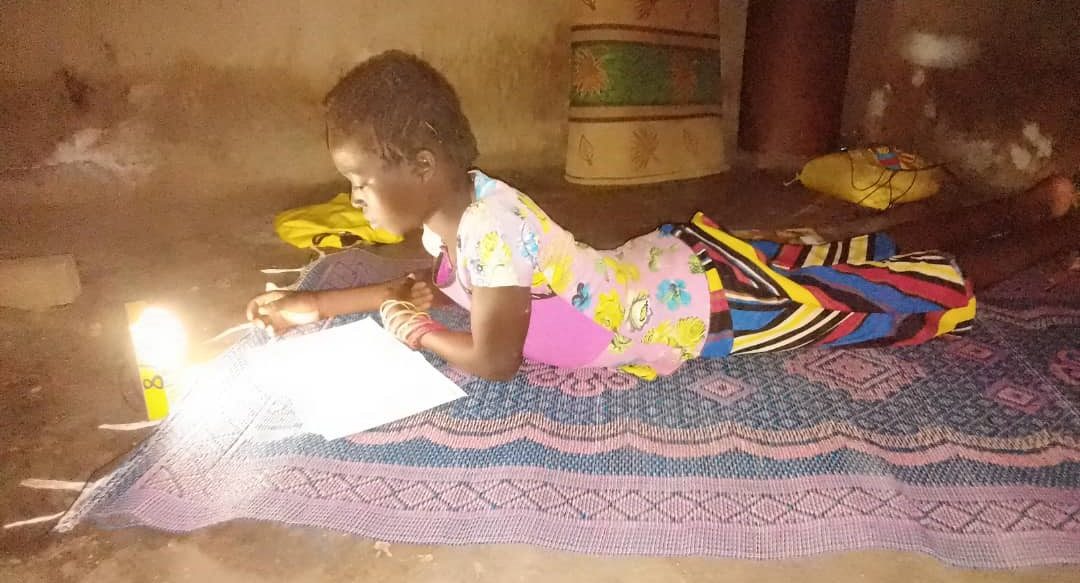 Lighting by solar lamp allowing students to study at night once they are at home – photo by Electriciens sans Frontières
At the same time, the Faag-Taaba association has developed various income-generating activities at the welcome center: market gardening, soap making, chicken coop, sewing workshop, etc. The development of these activities required to motorize the pump installed in 2017.
A water tower and 2 standpipes are now supplied with water for the use of the center while 2 storage ponds have been created to irrigate the crops and continue to develop the market gardening activity.
Electriciens sans frontières has carried out more than 70 projects in Burkina Faso. Despite security and sanitary conditions that prevented the project team from traveling, all of the installations were carried out by a company in Ouagadougou, in collaboration with volunteers from a distance. The work was handled on site by an Electriciens sans frontières volunteer from Burkina Faso who lives in the region.
Good to know: Thanks to MICHAUD product, the Energy Manager, consumption overruns are avoided.
Thanks to MICHAUD product : Energy Manager, consumption overruns are avoided; this helps preserve the life of the batteries and thus contributes to the sustainability of the projects conducted by Electriciens sans frontières.
The Energy Manager can be set up according to an allocated amount of time or an amount of energy and cuts off once the package is consumed. This limitation of the consumption allows to anticipate the energy needs and therefore the production. It goes along with a didactic device allowing users to know the progress of consumption (and therefore the remaining consumption) through a colored LED system.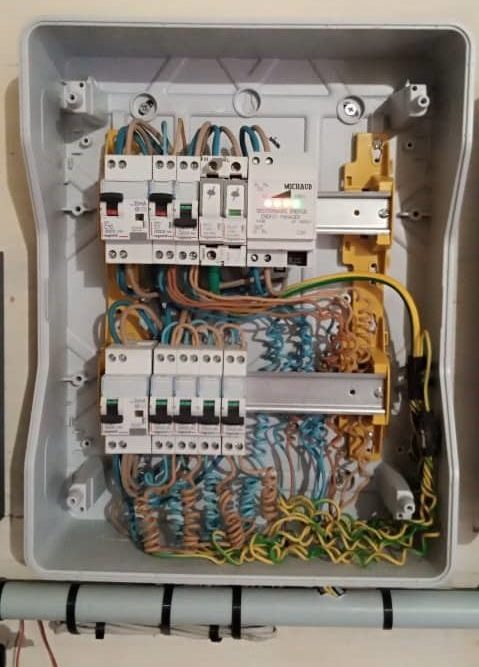 Energy manager installed in the school of Rakaye in Burkina Faso similar to the one that will be installed in the school of Tanghin-Wobdo – photo by Electriciens sans Frontières
"We are proud to have the French electrical equipment industry by our side. This partnership is a proof, if any were needed, of the support and confidence of the electrical industry in our mission and our actions. This support includes the supply of qualitative equipment. This represents a guarantee of durability, a strong axis that we have been defending for a long time now in our projects. Moreover, the use of this equipment gives a good visibility of the sector at the international level."