The use of the strap is necessary on all low voltage electrical networks, since it allows the attachment of various equipment and accessories (anchoring and suspension systems, overhead boxes, etc.) to electrical poles.
The different types of straps
The strap can be used to fulfill different functions: fixing of an anchoring system, a box, a case or a sign plate…
Depending on the desired use, the materials that make up the strap as well as the sizes can vary.
Materials
To fix equipment on an electric pole, the strap used is made of stainless steel strips combining mechanical resistance and corrosion resistance.
However, there are several steel grades with a slight variation in chemical compounds. These provide a wide range of different steels with different mechanical strengths, elongations and corrosion resistances. These grades are called AISI..
Did you know? The term AISI refers to the :American Iron and Steel Institute.
Sizes
The strap comes in many different sizes (lengths) and thicknesses. It is the equipment to be fixed on the post that will determine the choice of a strap size: the heavier this accessory will be and will generate mechanical resistance constraints, the thicker and longer the strap must be..
There are generally two standard thicknesses: 0.4mm and 0.7mm.
For the width, the most used dimensions are 10, 13, 16 and 20mm.

How to use the strap?
In order to obtain a solid fixation of the equipment on the electric poles, it is necessary to install and fix the strap according to the rules of art.
Fixing the strap
Once the strap has been chosen, it is necessary to select a type of closing accessory. The strap is supplied as a roll to be cut and does not have an integrated closing element. There are three types of strap:
Clevises
Loops
Reinforced loops
These products differ only in their installation technique, so the choice is generally made according to the habits of the assemblers.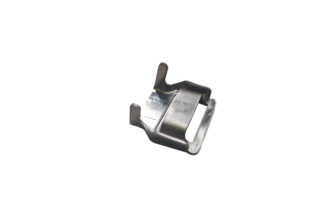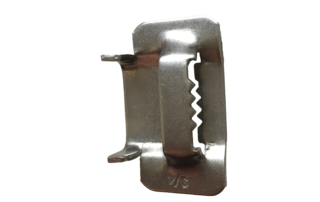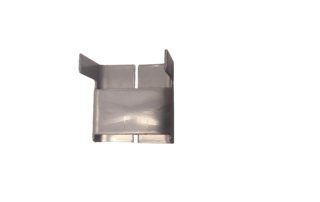 Install the strap
After having chosen a strap adapted to the installation that you wish to carry out as well as a type of closing, it is important to be equipped with several tools in order to facilitate the operation:
A shear to cut the strap to the desired length
A screw or lever strapping machine to tighten the strap around the post
A hammer to fix the loop
The reel in which the strap is stored allows for easy unrolling and installation.
It is also possible to install other equipment in order to obtain a custom installation:
Meshes to guide the conductors when lowering the pole
Protective strips to protect the conductors when they are held to the pole by the strap
Anti-climbing spikes to dissuade potential fraudsters from climbing the poles.